Alumni
Maitreya – HNCC Alumni Association
The institute has a long track record of successfully developing students for their careers and the Alumni of the college have acquired great success in their careers as Chartered Accountants, Company secretaries, Advocates, Positions in Marketing; Finance; HR; CEOs etc. in and outside the country across various industrial and economic sectors Managerial. The college has pride in being contributory in its Alumni's Success and so are the Alumni. The Alumni of college have credited the college for laying the strong foundation for their careers. To assemble these prestigious Alumni from more than 40 various batches on a common platform, the college has formed an Alumni Association named 'Maitreya'. This association was formed informally years back and has conducted various activities like expect lecture interaction, Mentorship to current batches, Summer Internships and Final Placement Opportunities, Scholarships to deserving students, etc. However, the association is now a registered body as a Trust named '
Maitreya – HNCC Alumni Association
' with the Assistant Charity Commissioner, Solapur with registration no.
MAHA / 20 / 2019
dtd. 05/01/2019. The Trust has laid the following objectives that it intends to achieve in coordination with the institute.
To organize Alumni Meets for exchange of knowledge and experience with the current students.
To organize seminars, workshops, Expert Lectures for the current students of the Alma Mater.
To Help the current students of the Alma mater seek internship placements and final placements through its well positioned members.
To provide platform for Industry interaction with the Education Institute – the Alma Mater in various forms like Industrial Visits, Industry Expert Visits, Lectures and Workshops, etc.
To Undertake any such activity to develop the required level of bonding and belongingness amongst the Trust and the Alma Mater with the common objective of developing the Current students of the Alma-mater to make them Professionally Ready to achieve successful careers.
To conduct various sports competitions between the Alumni, the Current students and the staff of the institute.
To organize inter-collegiate competitions in Alma-mater for various curriculum streams such as quizzes, debates, elocution, ad-mad and similar contests which provide a platform for students to showcase their talent and scope for professional development. This would be organized with the help of current students of the institution i.e. sponsorship of the Alumni Association and implementation by the current students.
To undertake social activities in association or with the help of current students to provide them the exposure to social problems and to inculcate social responsibility among the students. This may include blood donation camps, social awareness campaigns through road shows, rallies, tree plantations, collection and donations of educational material, food grains, clothes from the society to the under-privileged and needy sections of the society, etc.
To organize career development workshops and job fairs for the aspiring youngsters.
The Principal, Hirachand Nemchand College of Commerce, Solapur shall be the Ex-Officio President of the association. Anyone who has completed any UG and / or PG course from Hirachand Nemchand College of Commerce, Solapur is eligible to be the member of the association.
The alumni of early batches are invited to seek membership in the association and the current students, of various degree courses and are being / will be registered as members of the association on completion of their Degree course. The current Office Bearers of the association are as under :
| | | | | |
| --- | --- | --- | --- | --- |
| Sr. No. | Office Bearer | Profession | Alumni of Course / Batch | Office Position |
| 1 | Principal Ex-Officio (Dr. Satyajeet K. Shah) | Principal | M. Com - | President |
| 2 | Dr. Pankaj V. Dolas | Professor | MBA - 1997-99 | Vice-President |
| 3 | Mr. Pravin B. Bajaj | Professor | MBA - 1992-94 | Secretary |
| 4 | CA Shrenik H. Shah | Professor | M. Com. - | Treasurer |
| 5 | CA Sunil Ingale | Professor | M. Com. - | Jt. Secretary |
| 6 | Mr. Shriniwas Kyatam | Advocate | B.Com. - | Member |
| 7 | Mr. Madhusudan Karwa | Pharma Business | B.Com. - | Member |
| 8 | ICWA Amol Kshirsagar | Professor | B.Com. - | Member |
| 10 | Ms. Minal Pandhare | Professor | MBA - 2001 - 03 | Member |
| 9 | Mr. Rajshekhar Yemul | Employed | BBA, MBA - 2008-10 | Member |
| 11 | Mr. Vishal Kurle | Bank Officer | BCA, MBA - 2013-15 | Member |
Alumni Meets and Gatherings
| | | | | |
| --- | --- | --- | --- | --- |
| Date | Participants | Venue | Attendance | Remarks |
| 27/01/2018 | All Batches | HNCC, MBA Wing, Solapur |   | Half Day Registration for the Meet Alumni Introductions Past & Present Faculty and Non-Teaching Staff Felicitations & Photo Session Entertainment - Curtural Performances by Current Students Dinner |
| 22/08/2015 | 1993-95 Batch | HNCC, MBA Wing, Solapur | 12 | Full Day Interaction with Past Faculty Members, Current Students, Current Faculty Members. Distributed Scholarships of Rs. 11000/- Had Lunch With all Faculty Members - Past & Present Played Cricket Match With Current Students |
| 25/10/2014 | 2006-08 | HNCC, MBA Wing, Solapur | 33 | One Evening Interaction Amongst Each Other and Current HoD Dinner with Current and Then HoD at Balaji Sarovar, Solapur |
| 29/02/2012 | Hydrabad HN-MBAites | Hotel Gayatri, Hyderabad | 15 | An Evening with Dinner Interaction with Current Placement Coordinators Shared Current College Activities and Development Proposed Support for Placement, Guest Lectures, Student Development |
| 21/01/2012 | All Batches | HNCC, MBA Wing, Solapur | 68 | Half Day Registration for the Meet Alumni Introductions Current student Interaction in Panels Entertainment - Curtural Performances by Current Students Dinner |
| 18/10/2011 | Pune HN-MBAites | Jotel Shreyas, Pune | 13 | An Evening with Refreshments Interaction with Current Placement Coordinators Shared Current College Activities and Development Proposed Support for Placement, Guest Lectures, Student Development |
| 26/01/2010 | All Batches | Alankrita Resorts, Hyderabad | 118 |   |
| 26/01/2008 | All Batches | HNCC, MBA Wing, Solapur | 350+ | Full Day Registration for the Meet Alumni Introductions Current student Interaction in Panels Entertainment - Curtural Performances by Current Students Dinner |
| 2004 | All Batches | HNCC, MBA Wing, Solapur |   |   |
| 2000 | All Batches | HNCC, MBA Wing, Solapur |   |   |
| 1997 | All Batches | HNCC, MBA Wing, Solapur |   |   |
Alumni Speaks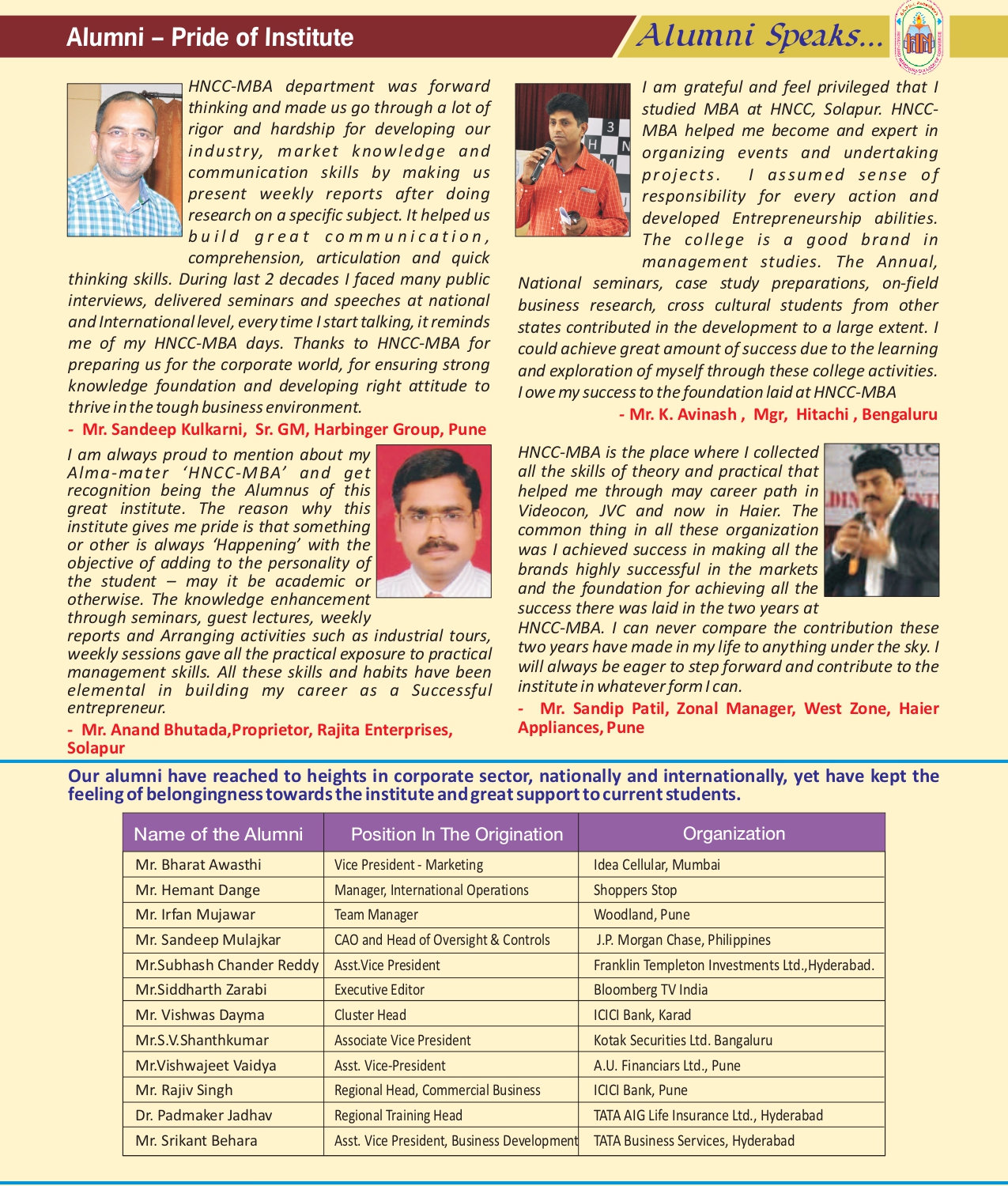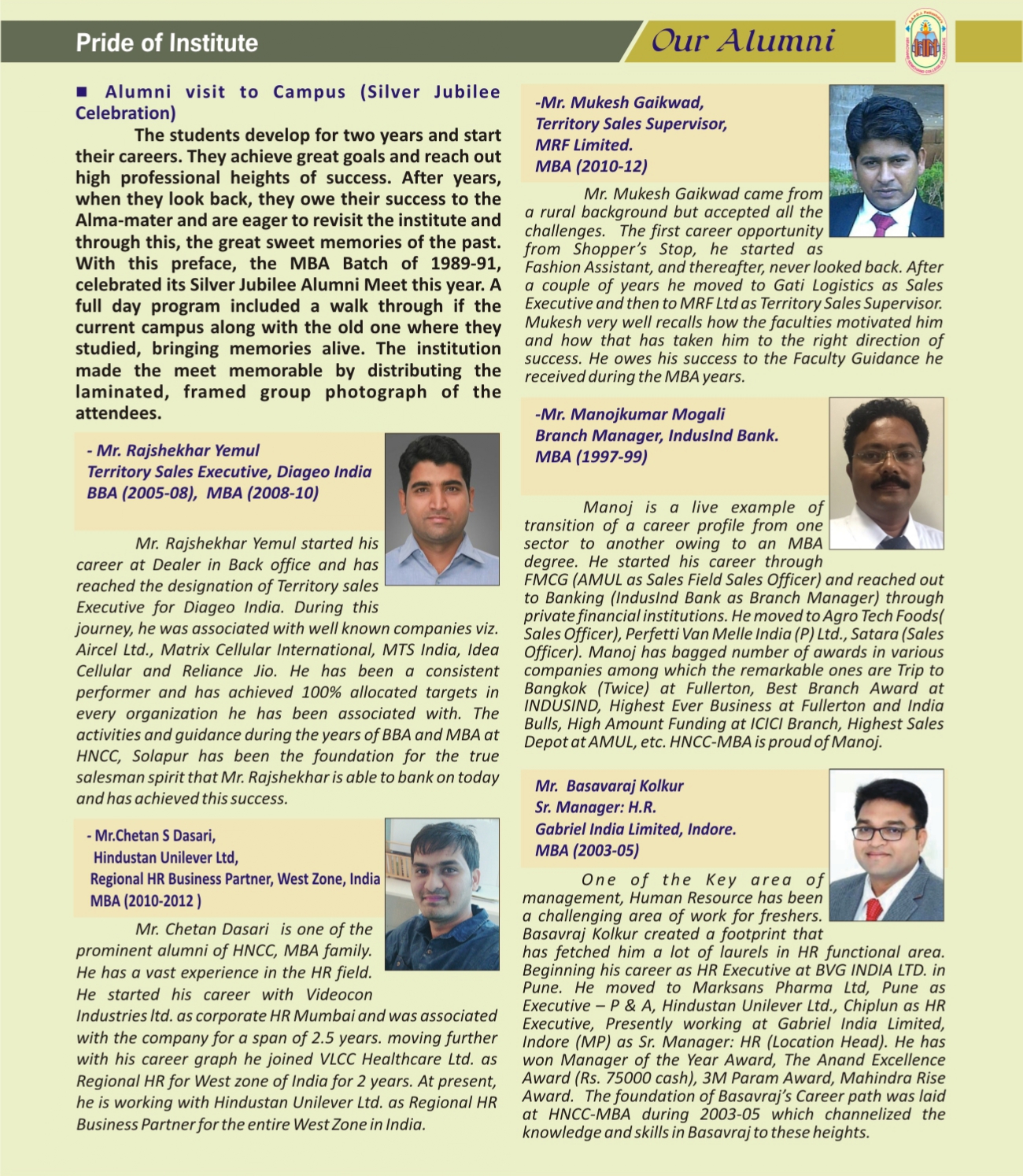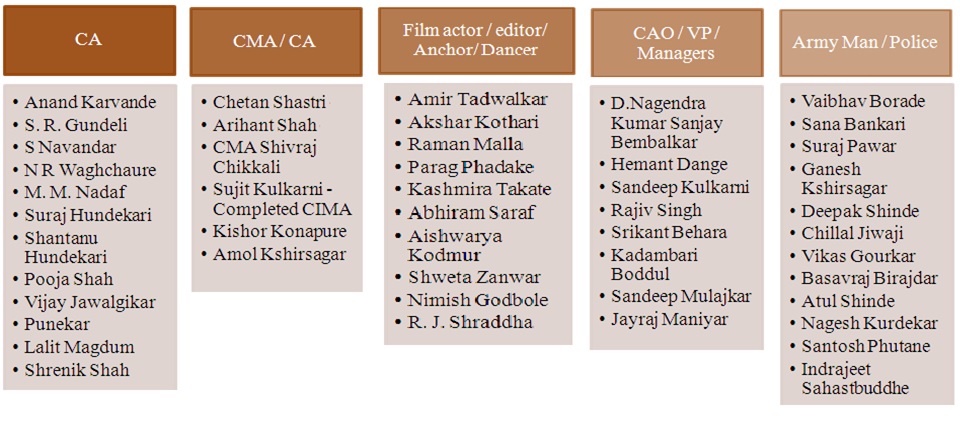 ---
---